Valley of the Gods Travel Vlog
Mar 8th 2021
After Page, AZ, we headed into Mexican Hat, Utah. We found a spot to boondock in Valley of the Gods. The area is amazing! The colors, the rock formations... It could have been a perfect spot except for the internet. Like, none, zero, nada! We could barely load maps to check for other things in the area. We definitely couldn't stream shows. And there was no way Nick was going to be able to work. So we filled our entire Saturday with the top things we wanted to see and do and planned to move again on Sunday.
We started with a drive through Valley of the Gods. The views, y'all! Wow! It's a 16-ish mile drive that takes you right through the heart of these formations. It's all BLM (Bureau of Land Management) land so if you wanted to pull off on the side of the road and venture closer to the formations, you can do that. There are plenty of pull-offs along the road and so many great pictures to be taken!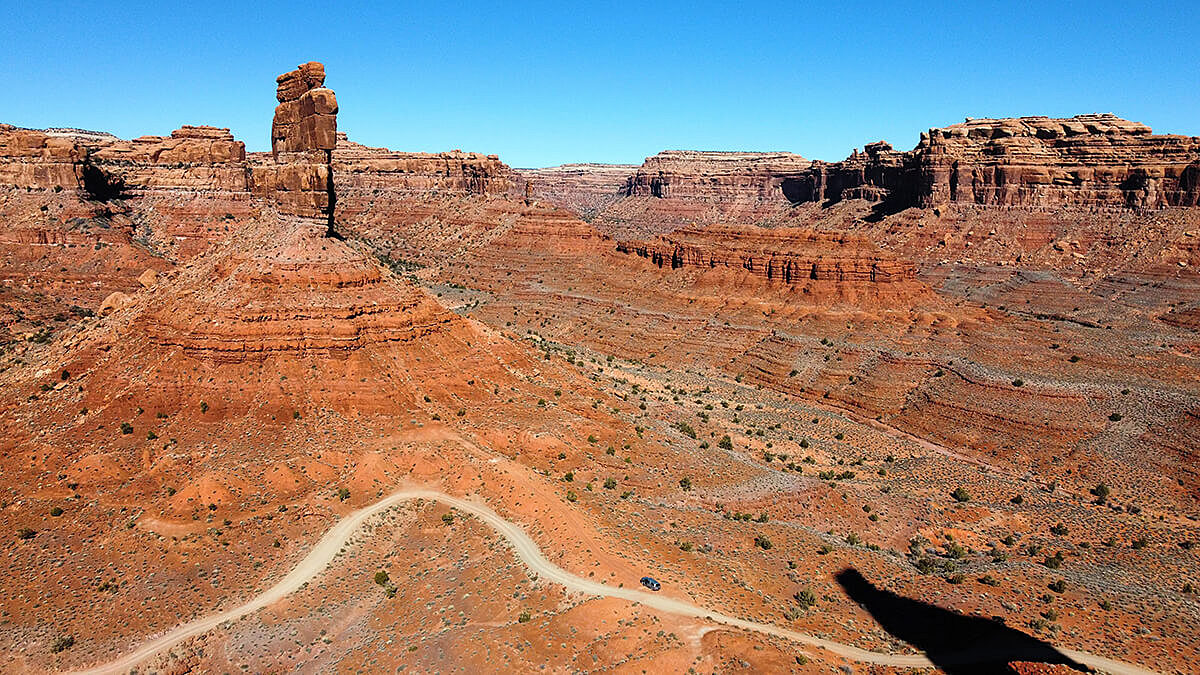 After that, we headed to thee Mexican Hat rock formation. We had seen people on the rock, under the "brim" the day before so we did some research to figure out how exactly one gets up there to that spot! There were mixed reviews on AllTrails! Some saying "don't do it, you'll die" others saying it was "easy peasy!" So we decided to see for ourselves. Following the map on AllTrails, the hike started out easy enough. Then you get to a point where you're scrambling (more like climbing) to get up the rock. It's classified as a Class III scramble. Anything that is given a "class" is probably a little more than we want to take on! So we turned back. Whomp. But it was still neat to see!
Then we headed into Goosenecks State Park. We heard that this view could possibly rival Horseshoe Bend! So we paid a $5 entrance fee to get into the weirdest state park we've ever seen! Entrance booth - a circle of picnic tables around the "parking lot" - the view point - the end. What?! There's a spot where you can exit the park off to the left which takes you onto BLM land where you can drive along the edge of the cliff to get some different vantage points of the San Juan River below. The view from Goosenecks was pretty impressive though - unlike the one bend you can see at Horseshoe, this spot has two bends in the river! It was windy (are we seeing a theme here?!) and late in the day so we headed home to get ready for our next move in the morning.
Our search for internet and decent temps lead us to Moab at a boondocking spot off Klondike Bluffs Road. We have been to Moab before in September of 2019 - we boondocked off of Willow Springs Road that time and it was insane! Soooo many people so we wanted to check out a different spot this time. Klondike Bluffs was so much quieter than Willow Springs, but that may have just been that we were here at a different time of year.
We went to Arches and Canyonlands National Parks. But there are countless other places to get info on these parks - probably from people who actually enjoyed them! - so we'll skip over those here.
We did check out Copper Ridge Dinosaur Track Site. There are a few dinosaur tracks there that you can see pretty well in the rock. There are informational signs explaining what types of dinosaurs made the tracks. One of the dinos may have even been injured based on the spacing of the steps.
If you need a place for the kids (or adults!) to burn off some energy, check out Moab's Sand Hill. It is across the road from the entrance to Arches National Park and is even shown on Google Maps as a playground! From pictures, it looks like it can get pretty crowded - we had the place to ourselves the day we went. People can take plastic sleds and maybe even cardboard to slide down the sand. But the climb to the top is no joke - so be prepared to put in some work!