Vegas Travel Vlog
Mar 15th 2021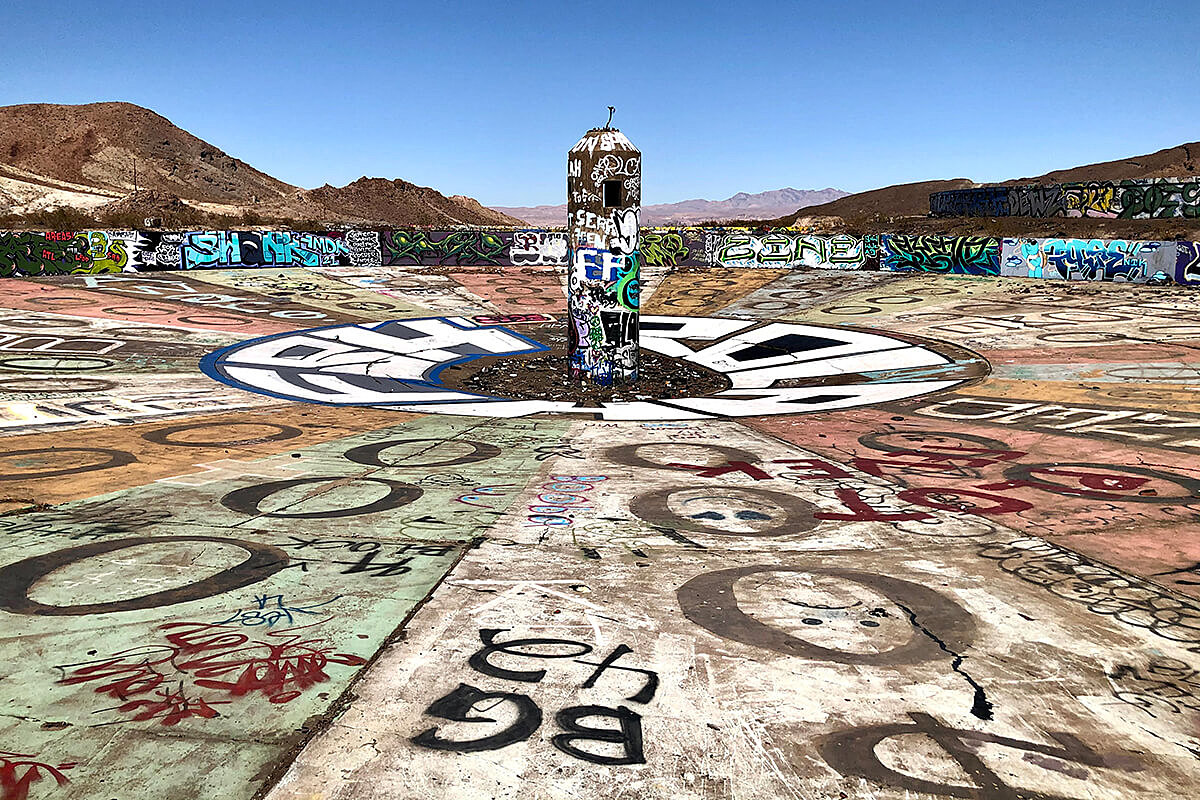 Last week, we were in Moab, Utah. From there, we headed toward Las Vegas, Nevada. We spent the week in the Lake Mead Recreation Area at ... gasp ... a campground! We stayed at the Las Vegas Bay Campground - $20/night. No hookups. But they do have dump and water on site. It was a great location for all the things we wanted to see while we were in the area. We had originally planned on boondocking at Government Wash but it was super packed and the roads were doodoo!
While here we checked out Three Kids Mine - an abandoned manganese mine turned graffiti artists playground! Super cool! We actually ran into some local artists while we were there. They pointed out some of the hot spots to check out and even walked us to the edge of the old mine. This place is definitely potentially dangerous - lots of broken glass and old rusty stuff littering the ground. There are even some open pits so you need to be aware as you make your way through the area. But worth the stop if you're looking for something a little off the beaten path!
We also checked out White Owl Canyon in Lake Mead Recreation Area. The trail is a loop but you don't need to complete the entire thing - take the trail to the left toward the canyon and through a tunnel under the main road to just see the highlights! The trail starts off with a pretty decent descent down a hill from the parking lot - not bad going down but we died a few times on the way back up! The slot canyon was super cool!
Saturday morning, we set out early to check out the Historic Railroad Trail to the Hoover Dam. Now, there was some confusion heading into this as to what exactly we were getting ourselves into. The Lake Mead informational newspaper listed it as a 4.6 mile hike. Some reviews on AllTrails said it was closer to 9 miles. The hike starts out easy. You're walking along the path where the old railroad tracks ran so you know there can't be too much of a slope - gotta be easy going for those old trains with heavy loads! You go through 5 tunnels which are always fun. If you went through tunnel #5 and decided to turn back, that would be a-okay! You get some really great views of Lake Mead, learn some history of the area, and get to see the tunnels. But if you're up for a little more adventure then keep on hiking! The trial will take you all the way to the Hoover Dam - through the old Boneyard (where old parts and pieces from the dam go to rest), you also walk through all the electrical doo-dads (I'm sure there's a technical term!) where you can hear the buzz of electricity all around you. The trail does start to get a little steeper. Then as you get close to the dam, you encounter stairs.
Overall, it ended up being close to 8 miles with an 800+ft elevation gain. It was neat being able to hike to the Hoover Dam.
The boys and I spent a morning at the Henderson Bird Viewing Preserve. Over 100 acres of bird paradise! Our oldest is big into birds and photography so this place was magic for him! It's free to get in but do check their site for hours as they do change throughout the year.
We checked out Seven Magic Mountains - a desert art installation. Neon-colored boulders against the muted desert make for a great scene! First put up in 2017, it was supposed to be in place for a year. Then, due to demand, it was granted a 3-year extension. But that 3 years is coming to an end and rumor has it, it is set to be dismantled at the end of 2021.
The boys and I visited the Boulder-City Hoover Dam Museum. It's inside the Boulder Dam Hotel built in 1933. I can't say much for the staff at the hotel but you don't actually need to interact with them so just pass them by and follow the sign to the museum. The museum is super informative and interesting. We spent a good amount of time reading and trying to take it all in. There is a movie that plays in a little theater that goes into so much detail about how everything came together. Definitely worth a visit!
We ended our week here with a trip to Hemenway Park. We had read reviews that bighorn sheep like to hang out here in the afternoons and it was better than we could have imagined! The bighorn sheep aren't just in the park - they are right.there! Close to the pavilions. Close to the people hanging out on the lawn. And completely unbothered by the folks doing yoga or by the squealing little kids. They were just there doing sheep things letting everyone take their pictures! They are wild animals so please use common sense. You can get surprisingly close but we should still respect their space. It's worth the small detour to see!