Charming Covered Bridges of the Northeast
Aug 30th 2021
According to some estimates, there were upwards of 12,000 covered bridges that once existed throughout the United States. Most were built between 1825 and 1875, but today, at the time of writing, only 800 remain.
Because covered bridges were built from wood, they were covered to protect the bridge from the elements, preventing rot. Bridges that weren't covered would have a lifespan of 20 years, while a covered bridge could last more than 100.
During our weeks spent in Vermont, and New Hampshire, we went and explored 12 different covered bridges! Most of them are still in use, but at least a few are now decommissioned, and some of them are even haunted!
Taftsville Covered Bridge - Woodstock, VT
This is the oldest covered bridge in Vermont, built in 1836. The first three bridges built in 1807, 1811, and 1828 were all washed away by floods.
In 1836 a "distinguished local" was hired to build a fourth version, which still stands to this day.
Fisher Covered Railroad Bridge - Wolcott, VT
Not all covered bridges were built for horses (and later vehicles). Some were built for use by railroad companies. Such is the case with the Fisher covered railroad bridge built in 1908.
The railroad here is no longer in use, but you can still walk the tracks to view the inside. Be careful here because theres gaps that you can fall through to the creek below.

Goldbrook Covered Bridge - Stowe, VT
Built in 1855 by John Smith, it's reportedly haunted! Legend has it that a poor girl named Emily met a rich boy, but the rich boys parents didn't want them to be together.
So they were to run off and get married, and set a plan to meet at the bridge at midnight. Only he never showed. Grief-striken, legend says she took her life here, and she haunts the bridge to this day. 
Other reports seem to indicate something else as shown in the image below. None the less, I love a good story!

Cornish-Windsor Covered Bridge - Cornish, NH & Windsor, VT
Sitting on the border of Vermont and New Hampshire you'll find the Cornish-Windsor Covered Bridge. This is the longest wooden covered bridge in the US, and the second longest in the world! 
This bridge was very busy and it was difficult to get footage of the inside. I think what makes this one unique is the law about speeding and horses, and the fact that it can fit two way traffic!

Blacksmith Shop Covered Bridge - Cornish, NH
This bridge was built by James Tasker in 1882 for a local farm family to be able to access their farm land. It's said that a blacksmith shop was located nearby, but that may not actually be the case.
At any rate, this one was pretty far back off the road and you'd probably miss it if you were speeding past. It was fun to explore this area, and the old stone foundations located nearby.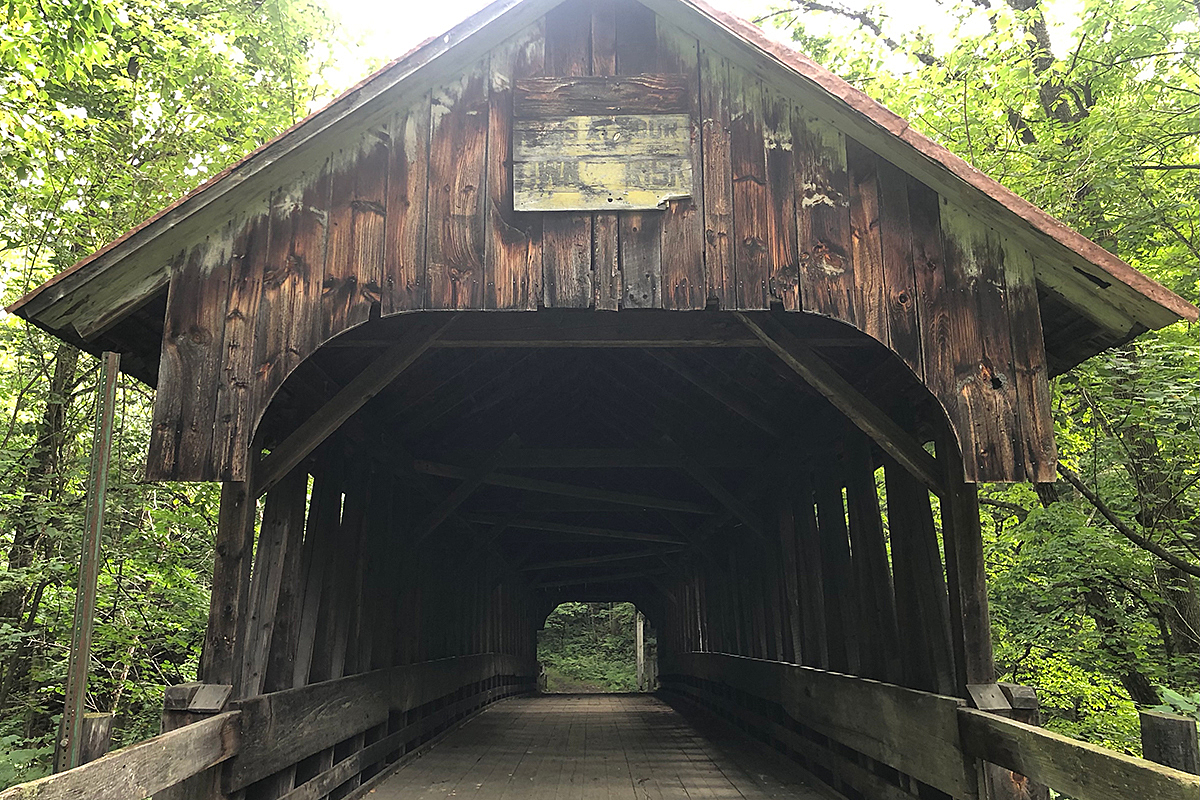 We hoped you enjoyed these! Sometimes it's too easy to get caught up with big sights and amazing attractions, and slowing down a little bit to appreciate the simpler things in life is time well spent!
If you enjoyed those, here are seven more!